Events 2016
Spring 2016:
Seattle's Moisture Festival: Circle of Sawdust (3/21) and Adventures in Mime & Space (3/28)
Lewis Family Playhouse at Victoria Gardens Cultral Center, Rancho Cucamonga, CA, Circus Consultant for the musical MIRETTE (April, 2016)
Ongoing Events throughout the year:
a) Circle of Sawdust, Adventures in Mime & Space, Silents Are Golden: For retirement communities, OSHER Life Long Learning programs, cultural centers and theaters throughout New England.
b) Parkinson's Disease programs: development of the Parkinson's Pantomime Project, ongoing classes in mime & circus techniques to improve movement awareness for people with Parkinson's and other movement disorders.
c) Nothin' Up My Sleeve: workshops in magic & play for senior communities.
d) The Magic Club: development of inter-generational magic classes in central Vermont (Fall,'16)
e) Summer Silent Cinema Series: Monday nights at Unadilla Theater, East Calais, Vt. July-August (contact Rob for complete list of titles)
f) Writing: works-in-progress!
* * *
Rob's three main ongoing programs:
1.

CIRCLE OF SAWDUST
The Mud, Myth, Mayhem, and Magic of Circus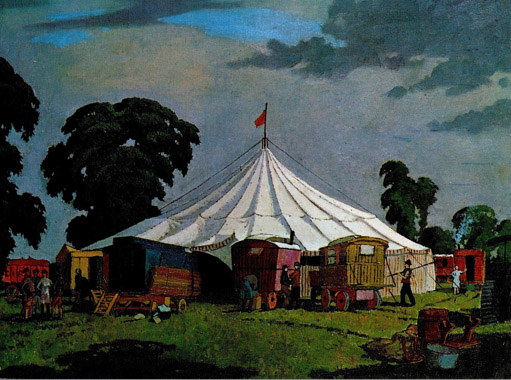 Rob Mermin presents an evening of personal anecdotes of wacky characters, wild escapades, and poignant recollections of life in the circus world, illustrated by rare and fabulous film clips.
Rob ran off to join the circus in 1969. His circus adventures took him clowning with mud shows in Wales, mule wrangling in Lapland with Sweden's Circus Scott, riding with the Magyars in the Hungarian State Cirkusz, three years with the famous Benneweis Circus Building in Copenhagen, and entertaining royalty in the circus palaces of Europe and Russia. In 1987, he founded Vermont's own Circus Smirkus, which The Boston Globe called "One of New England's most treasured cultural and educational resources."
"Humorous, engaging, eye-opening insight into a culture of legend we spectators know very little about. Mermin mixes warmth, humor, and playfulness with a gentle nod to human nature, producing a sense of the wondrous in his work. An evening that shouldn't be missed!"—Cultural History Center, RI
2.
Adventures in Mime & Space
The Legacy of Marcel Marceau
A Tribute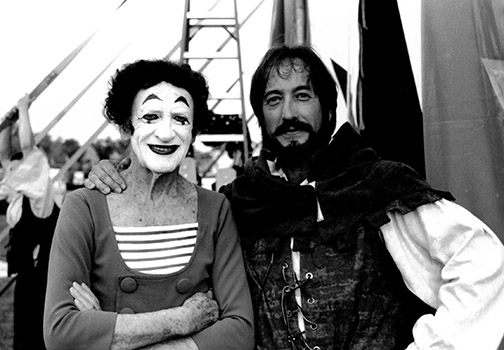 Marcel Marceau & Rob Mermin at Circus Smirkus, VT 1999
Rob, student of the legendary French mimes Marcel Marceau and his teacher Etienne Decroux, presents his memories of training with the masters.
Rob demonstrates the metaphors of mime technique and shows rare film clips of Marceau and Decroux performing and teaching, bringing to life the essence what Marceau called "the silent language of the soul." The legacy of Marceau encompasses not only his virtuosity in mime, but also his work in the French Resistance saving Jewish children during WWII. Marceau's unique life as artist and humanitarian earned him the respect of the world, and Mermin presents a long overdue retrospective of his work.
"Like you, dear friend, I live to enlighten dreams. It is our common task to bring light to the art we love, the Silent Language of the Soul." —from a Marceau letter to Mermin
"Fascinating, humorous, and deeply moving. This heartfelt homage to his mentor is as much a display of Mermin's artistry as it is a tribute to the art of silence." — Unadilla Theater
3
. Silents Are Golden
A Celebration of Silent Cinema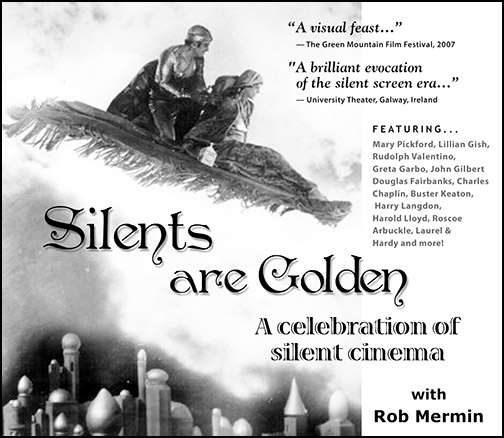 Rob's one-man show is lavishly illustrated with clips from 100 silent films! It is a celebration of the art of physical acting, seen through the lens of silent cinema. The show features Rob on stage plus a dazzling array of stars:
Mary Pickford, Lillian Gish, Douglas Fairbanks, Rudolph Valentino, Greta Garbo, Marion Davies, Clara Bow, Charlie Chaplin, Buster Keaton, Harry Langdon, Harold Lloyd, Laurel & Hardy,and many more!
"A brilliant evocation of the silent screen era and a loving homage to its stars. The evening was at times poignant, personal, humorous, and thoroughly entertaining." — University Theater, Galway, Ireland
"A Visual feast! A perfect combination of Rob's live commentary and demonstration, blended with wonderful film clips. Mermin makes a viable case for the relevance of silent film study for modern filmmakers." — Green Mountain Film Festival