Rob Mermin Bio
Director, Lecturer, Author, Clown, Mime, Magician and Raconteur
Rob ran off to join the circus in 1969. He clowned with various European circuses, including England's Circus Hoffman, Sweden's Cirkus Scott, three years with Denmark's Circus Benneweis in the famous Circus Building by the Tivoli, the Hungarian Magyar State Cirkusz, and circus buildings throughout the former Soviet Union. Formal training includes mime with masters Marcel Marceau and Etienne Decroux, and a degree in Drama and Literature from Lake Forest College.
Rob has toured a one-man show, founded a children's theater company, toured Canada with the Paul Gaulin Mime troupe, worked in TV and film in Scandinavia (including two seasons as a television actor on Denmark's popular weekly show "TV I Teltet"), and toured Europe with Sandglass Puppet Theater. Rob has volunteered time teaching and performing magic, mime, and circus in children's hospitals, nursing homes, and orphanages in 10 countries.
He had a stint as Dean of Clown College for Ringling Bros. and Barnum & Bailey Circus, was President of the all-youth Blackfriars Summer Theater, and is Artist-in-Residence for the Vermont Arts Council, creating Vermont's "Circus Residency" program for the state's public schools.
In 1987 Rob founded the award-winning international touring company Circus Smirkus. Having cultural exchanges with 32 countries, Smirkus was named the "United Nations of the Youth Circus World."
Rob was a guest instructor in movement and theater on US campuses between seasons abroad as a circus performer during the 1970's. He has lectured at such diverse places as the University of Chicago Graduate School of Business Executive MBA Program, The Lake Forest College Entrepreneur Club, Gallaudet College for the Deaf, Copenhagen University, the Upper Valley Inventor's Club, Dartmouth College Theater Dept, Elder Hostel seminars, Parent/Teacher conventions, Circus Schools, Historical Society Conventions, and universities in several countries. He is a consultant for arts organizations, nonprofit businesses, and youth circus groups worldwide.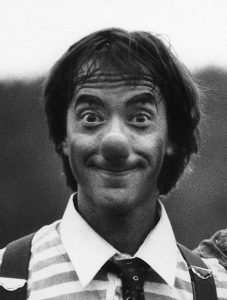 Rob is the author of the book "Circus Smirkus: True Tales of High Adventure and Low Comedy" and has written articles for numerous newspapers and magazines.
Rob's awards include Copenhagen's World Star-Time Clown; The "Bessie" Award; Russia's "Best Director Prize" at The International Festival on the Black Sea; Lund Center's "It Takes A Village" Award; the Vermont Arts Council Award of Merit; and the 2008 Governor's Award for Excellence in the Arts.
Rob Mermin bio (the short version):
Rob Mermin trained in classical mime with Etienne Decroux and Marcel Marceau and has performed in European circus, theater, TV and film for forty years. He is an author, director, university lecturer, former Dean of Ringling Bros. Clown College, and founder of the award-winning international company Circus Smirkus (www.smirkus.org).
Rob's awards include Copenhagen's Gold Clown; the Bessie Award; Best Director Prize at the former Soviet Union's International Festival on the Black Sea; the Lund Family Center's "It Takes A Village Award"; the Vermont Arts Council Award of Merit, and the 2008 Governor's Award for Excellence, Vermont's highest honor in the arts. Rob lives in central Vermont.