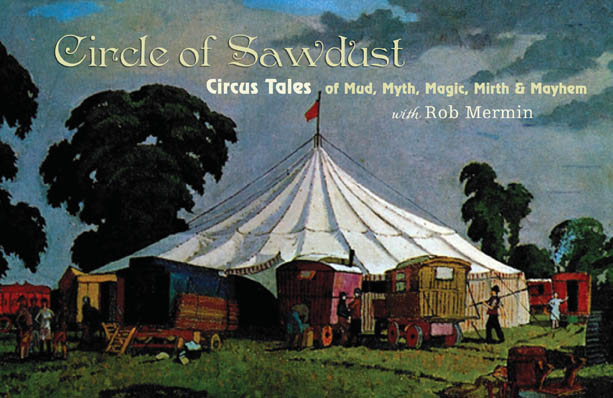 Circle of Sawdust
hosted by  ROB MERMIN, live on stage, with true stories told by himself. 
"Circle of Sawdust" is a multi-media one-man show featuring personal anecdotes and rare film clips that bring alive the mud, myths, mayhem, and magic of traditional tenting circus from someone who has lived the life and returned to tell the tales! (90 minutes, General Audiences)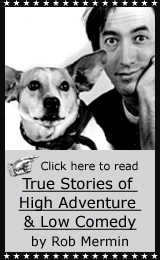 Rob's own historical films, wacky adventures and engaging stories of wild characters he has known vividly recreate what life is truly like under the big top. This picturesque history illuminates the relevance of circus culture to rural life in America over the past 200 years.
This program has been selected under the national "American Masterpieces" program: funding is available through the Vermont Arts Council. Suitable for theaters, schools, libraries, conventions.
Requirements: screen, dvd player, projector, microphone, sound system.
(In New England, Rob will bring all equipment if not provided on site.)
---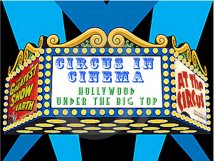 Circus in Cinema:
Hollywood Under the Big Top
This entertaining program depicts how the movies represent the international world of circus, with all its drama, romance, intrigue and wild characters. Rob presents live commentary from the stage along with clips from 25 feature films! Rob ran off to clown in the European circus in 1969 and says: "There are many myths about Circus—and they're all true!"
Film stars featured in the show include: Burt Lancaster, Tony Curtis, Gina Lollobrigida, John Wayne, Henry Fonda, Betty Hutton, James Stewart, Charlton Heston, Humphrey Bogart, Frederic March, Peter Lorre, Pat Boone, Doris Day, Jimmy Durante, Dumbo, Danny Kaye, Charlie Chaplin, and much more! 
A "Picturesque History" one-man show (90 minutes), Circus in Cinema was commissioned by Focus on Film and premiered at the 2010 Green Mountain Film Festival.
"Hilarious, informative, and strikingly personal! Rob has a deserved reputation as an engaging entertainer of the highest caliber. He comes well prepared, his presentations are thorough and informative, his rapport with the audience unsurpassed, and his sense of humor and timing are skillfully honed from many years of experience. We were fortunate to present three of his programs (Silent Film, Circus!, and Bubbles) this summer! We are privileged to recommend Rob Mermin to you."
— Chair of Greensboro Library Board of Trustees, VT